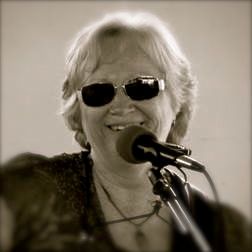 Singer-Songwriter
fighter
"I've had a lot of interruptions in my life, but I can't quit music—I just love writing songs. In fact, I have a sign in my studio that says: 'My Brain is 80% Lyrics'," shares singer-songwriter Cindy Slee. "God gave me a gift, and writing songs is my way of giving back."
Nothing can stop Cindy. She's a music industry survivor, having endured biz ups and downs in a variety of genres and musical contexts. She's also a brave survivor of multiple sclerosis. Today, the Perrysburg, Ohio-based lifer is embracing the opportunities afforded to artists through exploring all routes available for songwriters. She's actively pursuing synchronization placements in film and TV; she's offering her songs to other artists; and she will continue to perform and release music as a solo artist backed by her trusty bassist and drummer known as The Rhythm Method, which features Aaron Keaster (Toledo Symphony) on upright bass and Rob Desmond (Toledo School for Performing Arts) on drums/percussion.
Cindy is an engaging performer and songwriter who writes instantly familiar, impressionistic, narrative-based songs that are universally resonant. Her lyrics brim with stories of love, loss, self-discovery, and beauty-in-the-simple-things revelation. Cindy's influences reflect a broad array of songs-first artists, including Shawn Colvin, The Beatles, Dolly Parton, The Eagles, John Fogerty, and Hank Williams. To date, she's released two critically-acclaimed solo albums, Small Town World (2014) and Falling Together (2017).
At age 5, Cindy saw her destiny unfold, watching episodes of Liberace, and marveling at the beautiful music and flamboyant style of the late piano icon. By age 12, she was playing guitar, singing, and showing prodigious talent as a musician. 
A few years later—while in her early 20s—Cindy commenced her professional music career as the lead singer, guitarist, and co-songwriter for the popular Toledo, Ohio-based rock group The Stat Band, best known for song "State Street" which placed in the top 10% of submissions to the 1988 KFC Songwriting contest, receiving an honorable mention among a wide field of participants. She recorded two albums with The Stat Band, and, from there, Cindy pursued a career in the contemporary Christian music world first with Aaron's Rod and, later, with All About Him. With both of these bands, Cindy shared her prodigious talents as a songwriter and co-songwriter. 
In 1990, Cindy was diagnosed with multiple sclerosis. Her bold journey altered her songwriting perspective as evident by the title of the Aaron's Rod album that came out around then, Thankful Offerings. "It took me 8 years to get better, and, when I recovered and had enough strength, I wanted to thank God through music," she says. Cindy embarked on her solo career in 2012, and, a few years later, was joined by The Rhythm Method guys, thus coalescing her distinct blend of acoustic pop and Americana. 
Highlights in her two-album catalog include "Happy as a Jaybird" and "Small Town World" from her debut, Small Town World, and "Between Burial & Birth" from her sophomore release, Falling Together. The track "Happy as a Jaybird" is a bright uptempo country track with romantic overtones and quicksilver twangy lead guitar. The song is a Cindy Slee standout, and was selected for a compilation album entitled Red, White, and You, released by the Toledo Free Press to benefit the Northwest Ohio Red Cross. As a result of this prime exposure, Cindy was featured on the front page of the Toledo Free Press alongside other local musicians who appear on the comp. The hooky "Small Town World" is an undeniable folk-pop track that salute's Cindy's beloved small town of Perrysburg, Ohio, a quiet Midwest town nestled near Toledo. 
On "Between Burial & Birth" from her second album, Falling Together, Cindy explores the Christian tradition of rebirth. Here, her songwriting is hauntingly beautiful, replete with minor-key melodies and fiddle touches that convey spiritual urgency. This is a song about faith and staying on point in the face of foundation-shaking love. Here, Cindy writes with poetic turns of phrases, bold vulnerability, and sage truisms. 
Up next, Cindy welcomes a fresh era working with producer/multi-instrumentalist Chuck Mauk and his talented daughter Grace. The newly recorded track "I Fell" is a sneak peek at her upcoming output. The production here is rich with moody ambient touches, exhibiting a unique, Bowie-esque artsy touch. The song touches on themes of loving someone from afar. In closing, Cindy says: "Making music is what I love—it keeps me above water."